With over twenty years of teaching experience and two degrees in flute performance, I am a highly-qualified instructor. I teach students of all ages and levels – small children, teenagers, adults.
I teach the fife-a small, inexpensive instrument that is perfect for children's small hands-a great instrument for little beginners as young as six.
For children as young as four, I offer recorder lessons. These are individual lessons designed for one student accompanied by a parent who learns along with the child. Lessons proceed at the child's pace and incorporate singing, drawing and listening to music.
My students learn solid flute technique and basic music theory while having fun learning to play the music they like, whether its the classical repertoire, popular favorites or contemporary extended technique. Students also get the chance to meet and perform with other flutists, both in my studio and through events that I host in the community, such as student recitals and flute caroling during the holiday season. My students have been accepted to competitive high school and university level music programs including San Francisco's School of the Arts and San Francisco State University as well as the Oakland Youth Orchestra. I teach in my Noe Valley studio, at the Hamlin School and for the Community Music Center. I've also coached the flute sections of the San Jose Youth Symphony and the Young People's Symphony Orchestra.
I've performed for thousands of students in San Francisco and the greater Bay Area under the auspices of the San Francisco Symphony's AIM program and Young Audiences.
Flute Caroling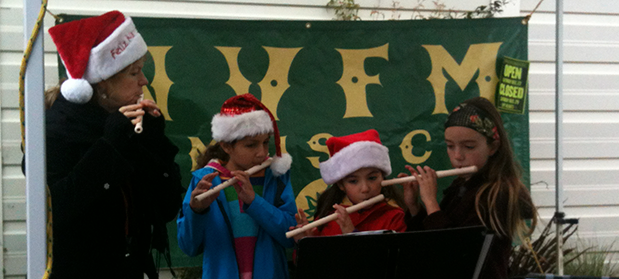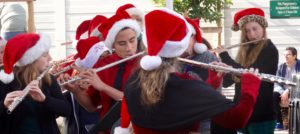 I offer my students opportunities to show the world what they have worked so hard to achieve by organizing occasional recitals and holiday flute caroling.