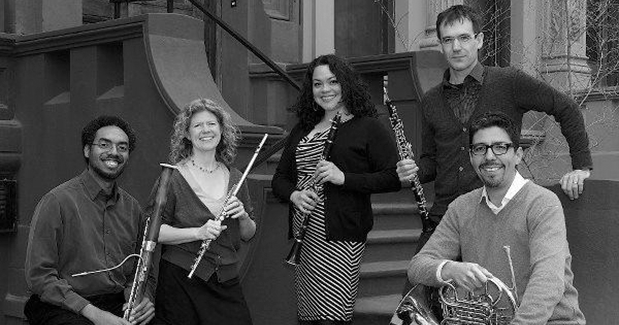 Quinteto Latino is a wind quintet specializing in the interpretation of Latin American classical music. Since the group's inception, the quintet has been dedicated to performing with world-class artistry in communities not traditionally served by classical musicians.
By championing young and lesser-known composers of Latin American and Caribbean heritage, Quinteto Latino seeks to expand the boundaries of classical music, reach new audiences, and inspire new generations of players.
Quinteto Latino has participated in the San Francisco Symphony's Adventures in Music Program many times, bringing their engaging educational work to every public elementary school in San Francisco. Through an affiliation with Young Audiences of Northern California, they continue to perform in schools from Sacramento to San Jose.
View an article and video clip of a Quinteto Latino school performance.
Quinteto Latino's debut CD was released in 2011, "Cien Años de Música Mexicana para Quinteto de Alientos/100 Years of Mexican Music for Wind Quintet." In October 2013, QL hosted a Festival of Latin American Chamber Music, which involved concerts; community events in four San Francisco Bay Area cities where over 100 students and 17 professional chamber musicians, composers and musicologists participated. The quintet has performed all over the greater San Francisco Bay Area as well as in New York, Oklahoma, Virginia, Iowa, Illinois, Maryland and Connecticut. In January, 2018, QL was a featured showcase ensemble at the Chamber Music America's annual conference. In 2019 the quintet looks forward to premiering a new work by Latina composer Gabriela Lena Frank.
For rates, repertoire and booking, please visit our website:
www.quintetolatino.org
650.365.2983 | info@quintetolatino.org
Check us out on YouTube.